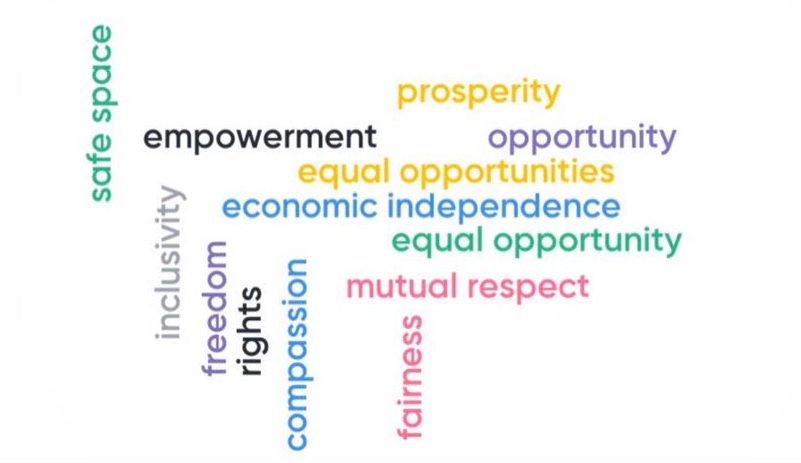 Once more, Shabka participated at ISCAN's International Security Dialogue Series iSEDI on 18 March 2020. Together with Velina Tchakarova (AIES) and Monika Fröhler (Ban Ki-moon Centre for Global Citizens) Shabkas Elisabeth Bauer had the pleasure to give an Input on the role of gender equality in international peacebuilding. Adjusted to current situations of COVID19 the event took place via videocall but lacked nothing to make it a vivid discussion.
Gender equality and female empowerment are some of the fundamental principles for ensuring peaceful and sustainable development. The goal 5 of the United Nations Sustainable Goals aims to achieve gender equality by the year 2030. Nevertheless, we are still facing girls and women suffering discrimination on different levels in their life on global scale.
Even though how we understand gender inequality is shaped by our individual experiences and maybe fields of occupation, there is a broad agreement that different shapes of discrimination are based on the way we perceive power which is, for societies, still a self-destructive perception. A positive outcome for the event being held online was to hear participants talking about their affects on inequality from various countries and therefor being able to exchange experiences.
This year marks the 20th anniversary of UN Resolution 1325 on Women, Peace and Security. It addresses how women and girls are differentially impacted by conflict and recognize the critical role that women can play in peace building efforts. Since then, seven more resolutions have been adopted, which all aim for affirmation of a need of women's inclusion in processes of post-conflict decision making, counter-terrorism, peacebuilding activities, prevention of sexual violence, protection and participation, and women's economic and political empowerment.
Despite seeing an increasing support of the Women in Security (WPS) agenda, there is a quit significant gap between the political rhetoric, and tangible political and financial resources. To smaller this gap also means to contribute further in dialogues between the actors and show compassion. Especially in times of crises, awareness for the crucial role of women in societies is high and opportunities should be built on it.
The iSEDI's third Edition topic coincided with the commemoration of the Social Justice International Day, observed annually on 20 February since 2009. The said declaration focuses on guaranteeing fair outcomes for all through employment, social protection, social dialogue, and fundamental principles and rights. The recognition of a need to promote social justice raises a need to address such issues as poverty, exclusion, gender equality, unemployment, human rights, and social protections, which are all interconnected with a wider understanding of human security in its holistic sense.
The main questions of the discussion were
How do we really understand gender equality/gender inequality?
Why do gender inequalities continue to prevail in societies (barriers for women's political participation, "oppressive cultures")?
What is the impact of gender inequalities on peace and security (gender mainstreaming in aspects of security, in particular in the post-conflict environment)?
How can we better promote gender equality?

Social conscience on gender equality – increasing awareness of gender equality issues
Reconstructing the economic framing: how to get away from cliche western policies and instead start gaining an understanding of inequalities specific to own culture and aiming to represent own population?
Budgeting Gender Mainstreaming: Investments and Funding
A reflection of iSEDI 4.0 is available on the ISCAN Website under this link.